What date is my company's Confirmation Statement due?
To determine the next applicable date when the company in question is due to file it's Confirmation Statement simply click the Dates section in PCSec: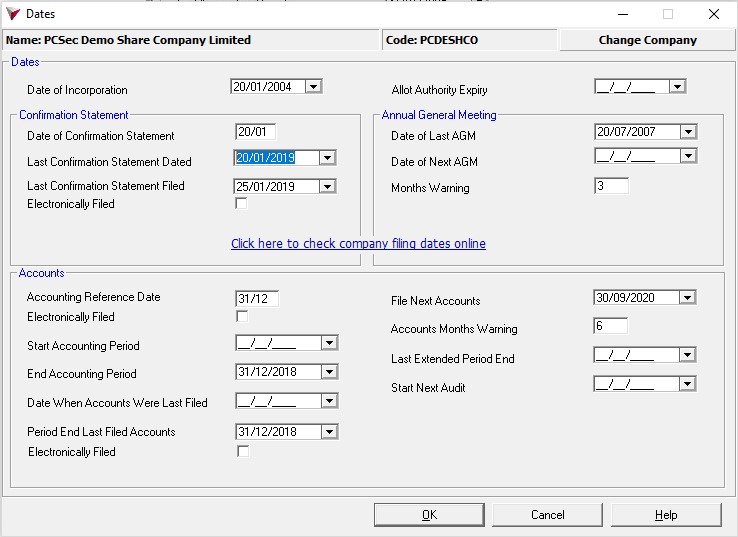 In the example above the significant field has been highlighted (labelled Last Confirmation Statement Dated) - it is this value/date that PCSec will use to calculate the next applicable form (AR01). This will always be a one year anniversary from the date declared in this field - hence the resulting AR01 produced would infact be for the period from 05/01/2009 to 05/01/2010 in the above example.
If you have elected to automatically update the database when generating a Confirmation Statement then it is this field that gets amended. Accordingly, if you have a requirement to generate a replacement AR01(for example the first submittal has been rejected by Companies House) then ensure this date is modified before attempting to complete the event once more.

How can I learn which other companies are due to file their Confirmation Statement?
PCSec can provide this very information in a succint report. Simply go to Reports > Listings and select one of the three specific Annual Return Listings available from here: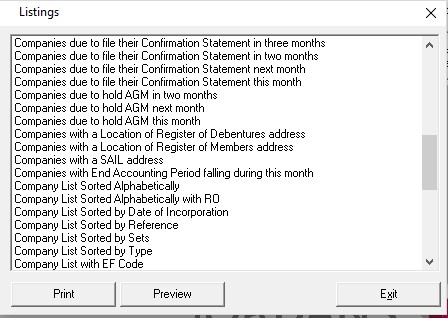 These Listings work only when there is information present within the respective Dates section. Where a company does not have this information it will simply be ommitted from the report - hence we would always recommend good housekeeping when maintaining your company data to enable these reports to function correctly.