When are my accounts due?
It is vitally important that the Dates section of PCSec is accurately maintained and up-to-date, as the information here will be used in reports to alert the user when certain statutory documents are due for filing. Please see below an example of where this is controlled within the Dates section: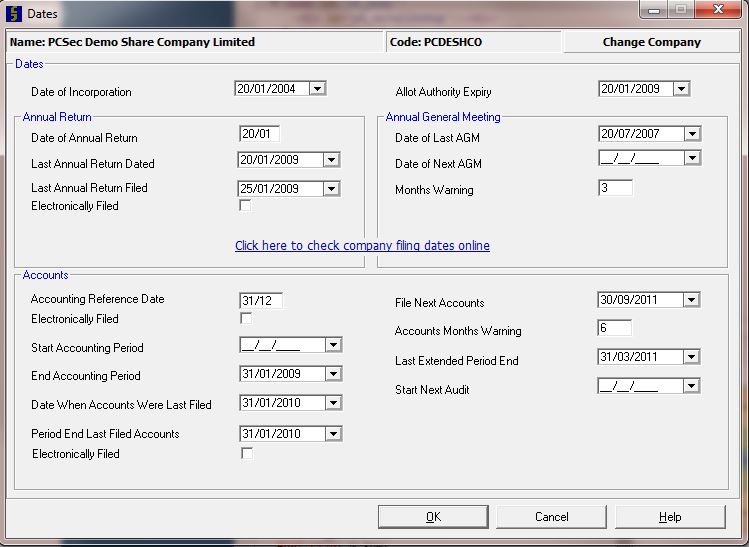 By populating the File Next Accounts field you can then include this company within such Listings (Reports > Listings)
The report selected: Companies due to file Accounts this month can greatly assist in performing general monthly company audits. The resulting report will identify which companies are then due to file their accounts.
A very important point to note here is the requirement for each company to have it's respective Dates section populated. Any of these three (accounts-specific Listings) will only work for companies that have a date declared within this field - where there is no date the resulting report will simply omit any reference to that company.

Can I produce my accounts in PCSec?
Currently, the only type of companies PCSec can file accounts for are dormant companies. For a more detailed overview please visit the Companies House guide to filing accounts:
http://www.companieshouse.gov.uk/infoAndGuide/faq/accountsAndReports.shtml

How do I produce a Work Schedule?
Work Schedules provide a handy overview of the company(s) selected covering several aspects/indicators in one report. Click on F4= Reports and toggle to Schedules/Diary then select Work Schedule and click Create Reports: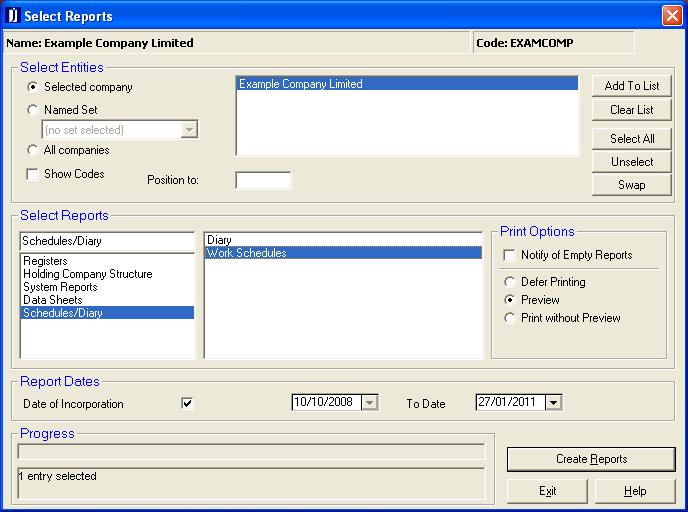 You will then be offered a list of filters as seen here: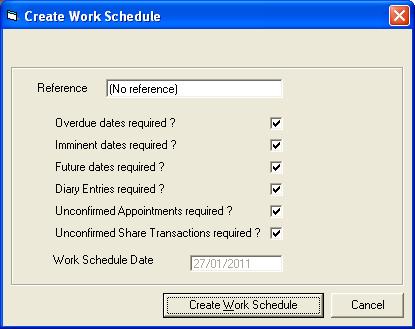 In this example all of the applicable filters have been selected. The resulting report should therefore provide considerable detail on this selected company which will greatly assist the user in determining which form(s) require filing.